I took this -
and made it this -
So fun! I love Dresden plate ruler/template thingy! Takes all the mystery out of them :) If you look back at
this post
I have more information about it, and the pattern I used for the pincushion.
ETA: the link to the pattern
is here
! I didn't realize it was hiding :)
My Wonderland fabric just keeps on giving! I promise I didn't buy that much - just love using up all the little bits :)
This is what Emmalie was working on while I sewed - "I'm organizing for you!" she tells me. I understand where the anal/perfectionist comes from, aahhmm, I just hope she outgrows some of it before it keeps her from enjoying anything less than perfect. Such a sweetie, and all the while soaking up the sewing for the day :)
I hope you are having a great day! Just in case you haven't seen this --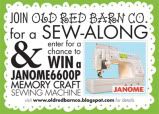 Go see Dana and you could be the big winner! But first you have to make a quilt :)
Gotta run!
Blessings to you~
Amy